Heart Radio's Jamie Theakston and Amanda Holden visit Dingley's Promise in Reading as part of the Global's Make Some Noise Day campaign!
Dingley's Promise welcomed Jamie Theakston, Amanda Holden and the Heart Radio crew to our Reading Centre on Thursday 7th October! Their visit was part of the 'Heart Breakfast Road Trip', which involved Jamie and Amanda travelling across the country to meet inspirational people from the local charities and organisations that are supported Global's Make Some Noise, as part of the 2021 Global's Make Some Noise Day campaign.
Dingley's Promise CEO, Catherine McLeod, and Fundraising and Communications Manager, Jo Evans, were on hand to welcome the visitors and explain how we have been supporting families in Reading since 1983. Jo also spoke about the huge impact that funding from Global's Make Some Noise has made, particularly in what had been a tough 18 months for small charities.
Jamie, Amanda and their team were given a tour of the Centre; including the two welcoming playrooms, the fully equipped sensory rooms, the newly refurbished family room and the Centre's fantastic outdoor space that the children can enjoy in all weathers. The Reading Centre's staff and volunteers also demonstrated first-hand how they support children in the Early Years with Special Educational Needs and Disabilities (SEND) to develop the skills needed to achieve their full potential, ensuring every child receives the best start.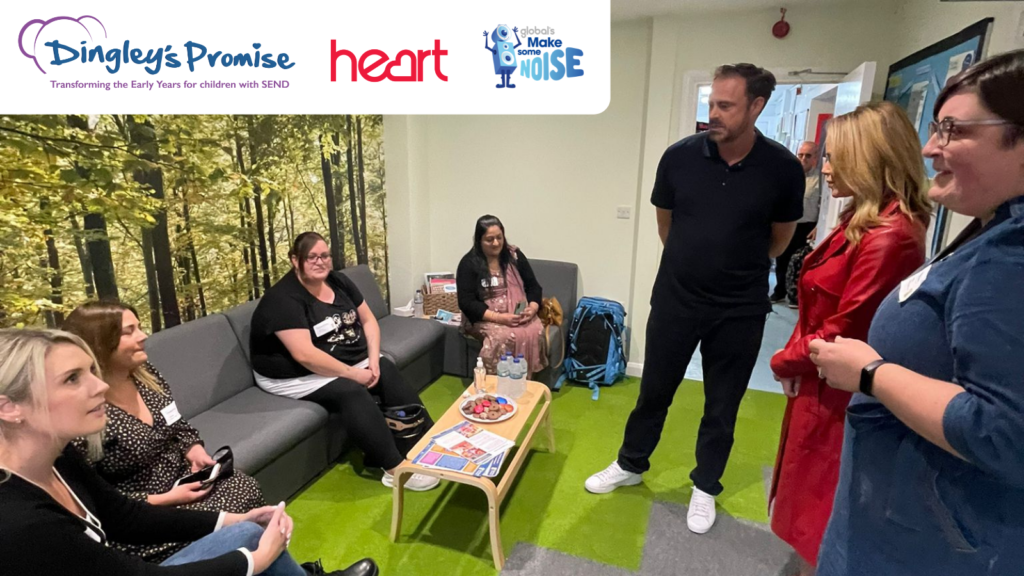 As part of the visit, Jamie and Amanda spent valuable time with a group of parents and listened to their stories. Every family of a child with SEND has a unique experience and the group shared how Dingley's Promise supports them to overcome their individual challenges, particularly during the pandemic. Dingley's Promise is grateful to all the parents that took the time to join us and help to raise awareness of our vital work with a national audience.
Dingley's Promise is proud to have been a part of this year's Global's Make Some Noise Day campaign and thanks Heart Radio for such a fantastic visit. All the staff, parents and children had a fantastic time; some of the children even got to get behind the microphone!
Global's Make Some Noise is currently funding a Recovery Activity Programme across all three Dingley's Promise Centres (Reading, Wokingham and West Berkshire), allowing the charity to help children in the Early Years with SEND to recoup the physical, educational and emotional abilities that were lost due to a lack of face-to-face support. This project forms part of the wider Dingley's Promise Recovery Appeal, which aims to support children and families recover from the impacts of the pandemic.
To watch a video of the visit click here: https://www.facebook.com/thisisheartofficial/videos/1261880687664366
Donate to the Dingley's Promise Recovery Appeal: https://www.justgiving.com/campaign/dingleyrecoveryappeal