Dingley's Promise in Wokingham
Introducing our Wokingham Centre
Our Centre, based within All Saints Primary School on Norrey's Avenue in Wokingham, provides a welcoming and inviting space for children to socialise and learn. A playroom is dedicated to visual and auditory play, including music and dance, interactive whiteboard sessions, and sensory circuits. This playroom also leads to a covered courtyard garden in which children can enjoy a range of outdoor resources such as painting, sand, kinetic sand, and water play.  
The second playroom has an array of resources for children to explore via free play and 1:1 developmental sessions with their key worker. We identify the most motivational resources for our children and use these to reinforce positive behaviours and encourage development. 
Our wonderful sensory room has extensive equipment to soothe and regulate children's needs. Our recently renovated kitchen provides the opportunity for shared mealtimes, hands-on cooking, and sensory food activities. We also have access to a much larger garden area with a sensory area where children can explore freely and safely.
We hope to welcome you to our Wokingham Centre soon and introduce you to our fantastic team.
Best wishes
Lucy – Centre Manager
Our Wokingham Centre Provides
Dedicated Family support for centre children and families in the community.

Stay-and-play sessions for families to enjoy the resources and environment with their children.

Playschemes throughout the holidays to provide respite for families and engaging, child-tailored activities with the support of our specialist staff.
The Dingley Wokingham Team
Lucy Staveley:
Centre Manager
Lucy has been working as a Nursery Manager for over 15 years. She recently moved to the area and is delighted to have the opportunity to work with the families and children at the Wokingham Centre. Lucy has always been passionate about working with children and watching them thrive, develop and grow in self confidence. She believes it is a privilege to be able to be a part of the children's lives in the vital first five years and to support them in achieving their own personal goals.
Lynne Blacklock:
Deputy Manager
Having worked with children for over 15 years, Lynne has experience of a variety of settings; from playgroups to after school and holiday clubs, but mainly in the private nursery sector supporting an age range of 6 months to 5 years. She holds an NVQ Level 3 in childcare, has experience in forest school and also has SENCO training. During her career, Lynne has always naturally gravitated towards children with SEND. She feels blessed to make a difference to each and every child's individual development and needs within her work environment. Lynne prides herself in having a professional, yet warm and friendly ethos towards every child, family and member of staff.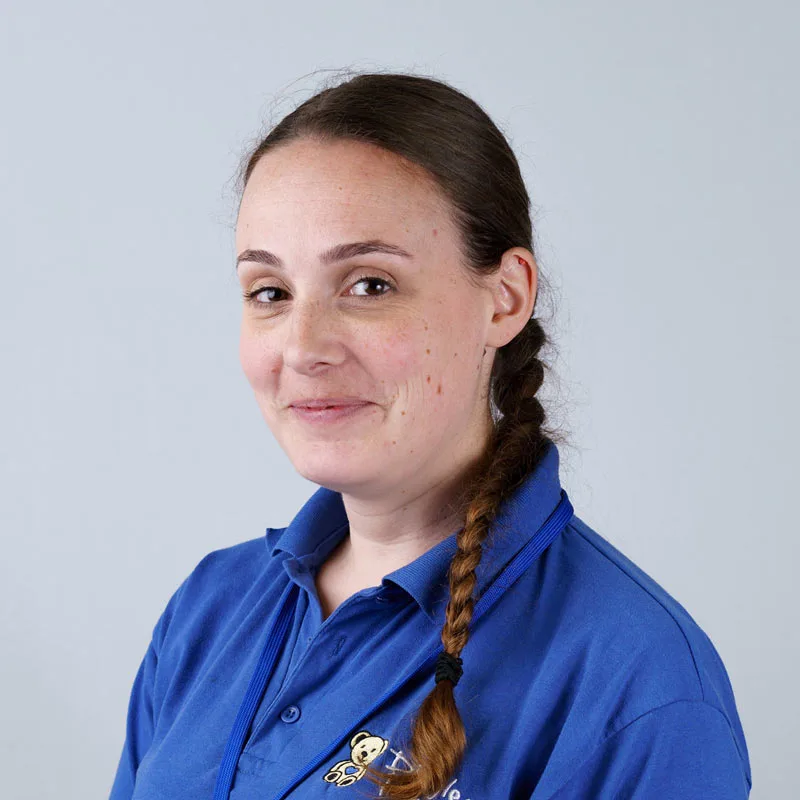 Sarah Brombley:
Family Support Worker
Sarah has been employed at Dingley's Promise for over 6 years as an Early Years Practitioner in Wokingham. She started volunteering for a year and loved the passion of the staff and the environment so much that she then joined the team. Sarah is very excited to have now taken the position of Family Support Worker for the Wokingham Centre. Prior to joining Dingley's Promise, Sarah worked in mainstream settings. As a parent to two children with SEND, she has always wanted to work in a specialist setting and it has given her a deeper understanding and empathy that she can now use to support the families that access our services.
Early Years SEND Support Wokingham
At Dingley's Promise Wokingham, we strive to equip young learners with the necessary tools for them to reach their highest potential. 
We recognise and value the importance of understanding children's areas of difficulty and creating targeted interventions and activities to help them overcome them. 
By providing our specialised early years intervention and supporting children in the early years with SEND, we are dedicated to developing greater inclusion, aiding families in accessing support services for their child's needs, and ensuring every child transitions into the best educational setting for them. It is essential that every child is given the opportunity to reach their fullest potential.
Our Frequently Asked Questions:
What are the centre's term dates?
Term Dates 2022-2023
Autumn Term 2022
Monday 5th September – Friday 16th December
Half Term: Monday 24th October – Friday 28th October
Winter Break: Monday 19th December – Tuesday 3rd January 2023
Inset Days: Thursday 1st September, Friday 2nd September
Spring Term 2023
Wednesday 4th January – Friday 31st March
Half Term: Monday 13th February – Friday 17th February
Easter Break: Monday 3rd April – Friday 14th April
Summer Term 2023
Tuesday 18th April – Wednesday 19th July
Half Term: Monday 29th May – Friday 2nd June
Summer Break: Wednesday 19th July – Friday 2nd September
Bank Holiday: Monday 1st May
Inset Days: Monday 17th April, Thursday 20th/Friday 21st July
Do you have any spaces at the centre for my child?
Can I see a virtual tour?
We hope to be able to provide a virtual online tour of our Wokingham Centre in the near future. Watch this space!
Do you have any volunteering opportunities or vacancies?
If you are interested in a career with Dingley's Promise, or would like to volunteer at one of our centres, please visit our vacancies webpage to see our current openings.
To express interest in volunteering at our Wokingham Centre specifically please email [email protected]. You can also take a look at our volunteering webpage to learn more about volunteering at Dingley's Promise!
Session Times
Monday – Friday
Mornings 9.15 to 12.15

Monday – Thursday
Afternoon 12.30 to 2.45
All day 9.15 to 2.45
Our Address
All Saints School,
Norrey's Avenue,
Wokingham, RG40 1UX.