Dingley's Promise needs your support!
At Dingley's Promise, we are extremely proud of the work we do to support early years children with special educational needs and disabilities and their families in our communities, as well as developing training courses and materials for practitioners nationwide who are benefitting from our specialist knowledge. We couldn't do this without our amazing supporters and their kind donations. Could you help us transform the lives of children with SEND?
There are so many ways in which you can help Dingley's Promise to continue to grow and thrive …
Make a donation
By making a donation you can have an immediate impact on the charity and make a real difference to the lives of young children and their families across Berkshire and beyond.
Corporate Support
The backing we receive from businesses and corporate supporters is invaluable to our charity. If you are interested in partnering with Dingley's Promise please get in touch!
Support Dingley's Promise as your charity of the year
Use volunteer hours to help out in our centres
Sponsor a project or equipment
Attend our Gala for your Christmas work event
Fundraising
Fundraising is the perfect way to spread much needed awareness of our work whilst also raising vital funds. We are constantly amazed by the efforts our supporters go to with their fundraising.
Take on a sponsored challenge
Have loved ones donate in celebration of a special occasion
Donate prizes or your time for local fundraising events
Support Dingley's Promise events; like our fantastic Gala
Volunteering
We're so grateful to the wonderful volunteers who give their time and skills freely to support us. If you'd like to get involved at our centres, at local events or as a trustee, we'd love to hear from you!
Volunteer with the children in our centres
Support us at fundraising events
Join our board of trustees
Help out with centre projects
For fundraising inspiration, follow us on social media or contact our team at

[email protected]

for support and information!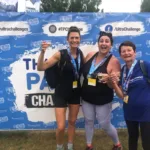 Receive our latest fundraising news and updates!