Dingley's Promise in West Berkshire
Welcome to Dingley's Promise West Berkshire
Our Centre provides a nurturing and friendly environment that our families and children love. Based on Poplar Place in Newbury, we have an experienced team of staff and volunteers who are committed to making a difference for children and families.
We have a bright, welcoming playroom full of resources for children to explore and enjoy. Children can freely access our sensory room from the playroom, which provides a relaxing and calming space. 
We have two garden areas; our small garden is used daily during free play time and has a range of forest school-style learning materials and equipment. This leads to the larger garden where children love the extra space to use the climbing frame, trikes and scooters, the mud kitchen, sand and the water play areas. 
We have fantastic community support for our centre and welcome families who may need our help to get in touch. Your child does not need to have a diagnosis to access our service. 
I look forward to welcoming you at the centre soon. 
Best wishes
Louise – Centre Manager
Our West Berkshire Centre Provides
Dedicated Family support for centre children and families in the community.

Stay-and-play sessions for families to enjoy the resources and environment with their children.

Playschemes throughout the holidays to provide respite for families and engaging, child-tailored activities with the support of our specialist staff.
The Dingley West Berkshire Team
Zoe began volunteering for Dingley's Promise in 2015 before being employed as an Early Years Practitioner. A few years later, she is now the centre's Level 3 qualified Manager. Her previous experience in the Early Years sector includes working for Mencap supporting children aged 3 – 18 years with a range of disabilities, as well as offering after school care and babysitting for families with children with SEND. Zoe loves working at Dingley's Promise and being able to make a real difference to the lives of so many families.
Kym was initially employed at Dingley's Promise from September 2015 to March 2021 as an Early Years Practitioner and has been working within the Childcare and Education sector for 18 years. She also holds a level 3 qualification. Kym has now returned as Deputy Manager at our West Berkshire Centre. She believes play should be a positive and engaging experience and is passionate about SEND, which is driven by her own experience as a mum of children with additional needs.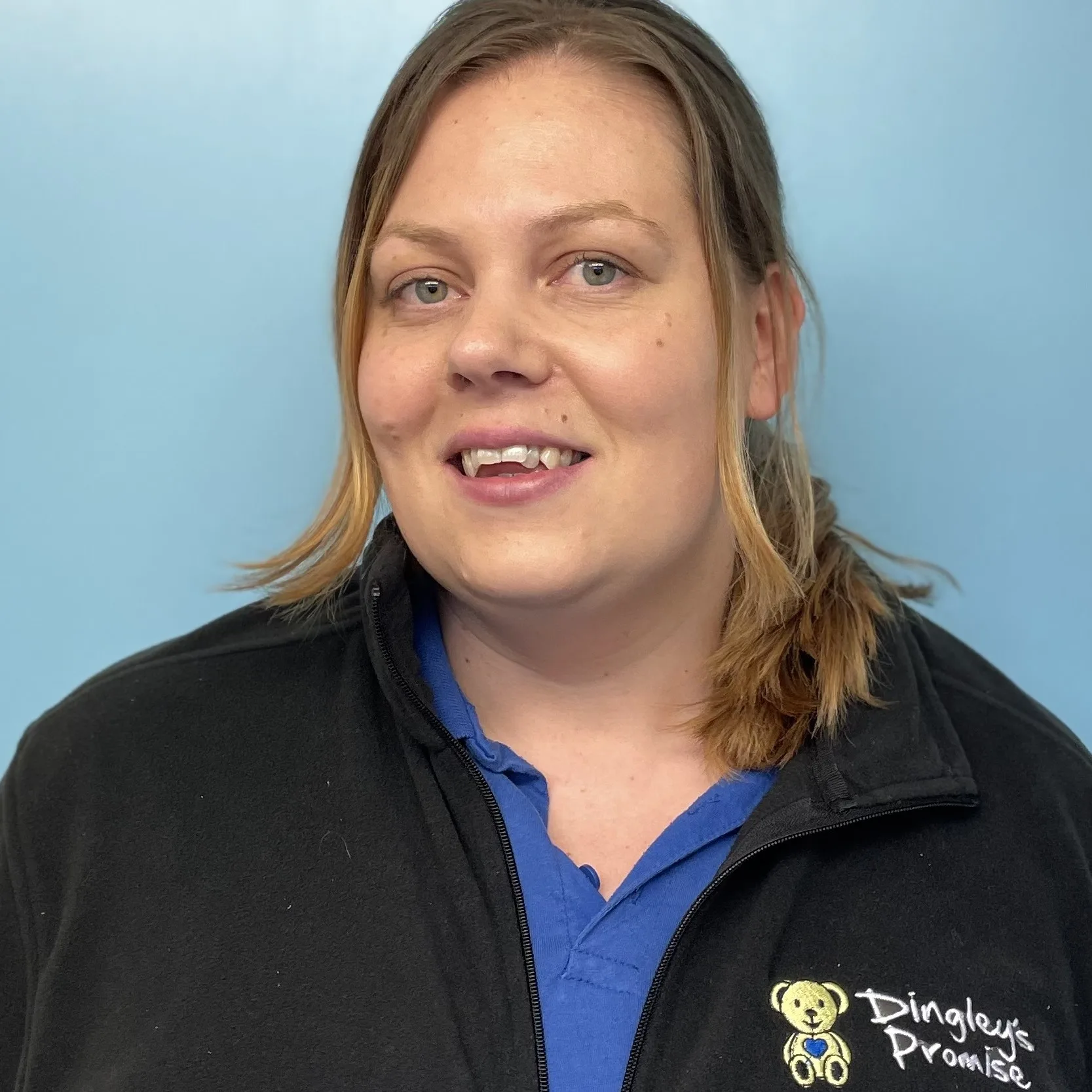 Alex Turner:
Family Support Worker
Alex has a level 3 qualification in health and social care, and is working towards finishing her level 3 qualification in Early Years. She has worked in care and support for 14 years with a variety of different ages. Alex has a special interest in child development and SEND, and is eager to support families through the highs and lows of their parenting journeys. She offers a nonjudgmental environment for caregivers and is always willing to offer creative new strategies to promote good mental health and wellbeing for adults and children.
Early Years SEND Support Newbury, West Berkshire
As a parent or caregiver of a child with Special Educational Needs and Disabilities (SEND), finding the right support services can be daunting. Fortunately, Dingley's Promise Newbury, West Berkshire is here to help. We are dedicated to helping children in the early years with SEND reach their full potential through our specialised practices and support services.
Inclusive Practices for Greater Access
One of our primary goals is to develop greater inclusion and enable more children to access mainstream settings. We understand that each child is unique, and we work closely with families to create individualised plans that cater to their specific needs. Our team of experts are trained to provide customised support to children with various developmental needs, including those with Autism Spectrum Disorder (ASD), Attention Deficit Hyperactivity Disorder (ADHD), speech and language difficulties, and physical disabilities.
Helping Families Access Appropriate Support Services
At Dingley's Promise Newbury, West Berkshire, we recognise that navigating the complex web of support services can be overwhelming. We work with families to help them access the appropriate support services for their child's needs. We also provide ongoing guidance and support to families to ensure they have the resources to support their child's development.
Ensuring Successful Transitions
We understand that transitions can be challenging for children with SEND, and we are committed to ensuring that every child transitions into the best educational setting for them. Our team works collaboratively with families and other professionals to create individualised transition plans that meet the unique needs of each child. We provide ongoing support to ensure a smooth transition and to facilitate successful outcomes.
Specialist Early Years Intervention
At Dingley's Promise Newbury, West Berkshire, we strive for excellence in our specialist early years intervention. We use evidence-based practices and the latest research to inform our interventions and activities. Our team is highly skilled in working with children with SEND, and we create tailored programs to address specific areas of difficulty. We also provide ongoing monitoring and assessment to ensure that interventions are effective and progress is made.
Tailored Support for Youngest Learners
Understanding the needs of our early children is crucial to their development. From perfecting motor skills to deepening emotional engagement, every child must be supported in reaching their full potential. At Dingley's Promise Newbury, West Berkshire, we value the importance of creating targeted interventions and activities to overcome areas of difficulty. We use a child-centred approach to ensure that our youngest learners are equipped with the necessary tools to reach their highest potential.
Our Frequently Asked Questions:
What are the centre's term dates?
Term Dates 2022-2023
Autumn Term 2022
Monday 5th September – Tuesday 20th December
Half Term: Friday 21st October – Monday 31st October
Winter Break: Wednesday 21st December – Tuesday 3rd January 2023
Inset Days: Thursday 1st September, Friday 2nd September
Spring Term 2023
Wednesday 4th January – Thursday 30th March
Half Term: Monday 13th February – Friday 17th February
Easter Break: Friday 31st March – Friday 14th April
Inset Day: Tuesday 3rd January
Summer Term 2023
Monday 17th April – Thursday 20th July
Half Term: Monday 29th May – Friday 2nd June
Summer Break: Friday 21st July – Tuesday 5th September
Bank Holiday: Monday 1st May
Inset Day: Friday 21st July
Do you have any spaces at the centre for my child?
Do you have any volunteering opportunities or vacancies?
If you are interested in a career with Dingley's Promise, or would like to volunteer at one of our centres, please visit our vacancies webpage to see our current openings.
To express interest in volunteering at our West Berkshire Centre specifically please email [email protected]. You can also take a look at our volunteering webpage to learn more about volunteering at Dingley's Promise!
Session Times
Monday – Friday
Mornings 9.15 to 12.15

Monday – Thursday
Afternoon 12.45 to 2.45
All day 9.15 to 2.45
Our Address
Poplar Place, Shaw,
Newbury,
RG14 1NA.